Formax Shredder Helps D.C. Medical Organization Ensure Document Security
Cost – Control – Security!
Onsite Shredding At The Source
Formax FD 8502AF AutoFeed Shredder Saves This Medical Organization
Money and Securely Shreds Confidential Documentation
Have you asked your customers how much they're spending on shredding services? Or how secure the service really is? Bryce Gerlach of Metro Mail Services in Springfield, VA did just that and saw that his customer could buy multiple shredders equivalent to what they were spending annually on their shredding service.
We had the opportunity to talk with the supervisor at the medical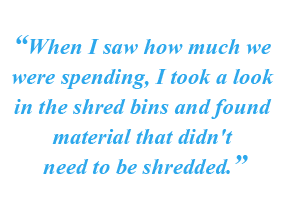 organization who purchased the shredders. Originally, the organization was paying monthly for their shredding service, then they switched to paying by the pound. "When I saw how much we were spending, I took a look in the shred bins and found material that didn't need to be shredded, like magazines and junk mail," the Supervisor explained.
Another concern was that they never saw the final shred from the shredding company. "We had to take their word for it," the Supervisor said, not knowing if all their confidential medical documents were actually being shredded or seeing the quality of the shred itself.
In addition, the shredding company would forget to come half of the time, leading to messy, overflowing bins.
When Metro Mail Services reached out to the medical organization about purchasing the FD 8502AF AutoFeed Shredder they were ecstatic to learn that they could not only save money but also feel confident in the security of their shredded documents. "It's been a great addition to our office equipment," the Supervisor said. "I know our confidential material is being shredded, no question. And we're not paying for what doesn't need to be to be shredded," she added. The organization purchased 2 machines and is pleased to never have to rely on another shredding service again.
With commercial-grade features like the easy-to-use LED control panel with load indicator, heat-treated steel blades, a steel cabinet, lifetime guaranteed waste bin, and a powerful AC geared-motor, the medical organization is ensured years of reliable performance and information security.
"It's very easy to use," the Supervisor said. "The shred is fabulous and there is no telling what was on the paper. I tell my staff, whatever is shredded is gone for good. They'll never be able to put the pieces back together," she laughed.
Control, cost and security. This medical organization feels fortunate to have made the switch from using a shredding service to purchasing the FD 8502AF for their shredding needs!