Cut-True 29A Helps Print Shop Streamline Finishing Process
Compact, Powerful Cut-True 29A is a Cut Above the Rest
Super Mail, Inc. of Wheeling, WV, has been in business for 27 years, providing Printing and Mailing Services to a wide range of businesses. Their production facility encompasses the whole process, from printing and finishing to addressing and mailing a variety of products including postcards, business cards, booklets, brochures, and more.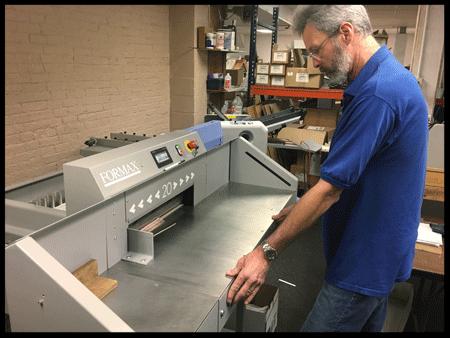 Their old large-format programmable cutter had outlived its lifespan, so in 2016 they consulted with their Formax Dealer, Ken Kasznel of AMASTI, who suggested they try a Formax Cut-True 29A Automatic Electric Cutter. We recently spoke with members of the Super Mail team to see how the Cut-True 29A is improving their finishing processes. Vice President Rodd Thoburn and Production Manager Gary Burtrand shared their thoughts.
Just the Right Fit
The Cut-True 29A has the capacity to store up to 100 jobs, with up to 100 cuts each, which Burtrand said is more efficient, especially for large projects like a job they run with 30,000 postcards. Instead of making a single cut on each stack of paper, then repeating the process for subsequent cuts, the Cut-True 29A makes it easier to program a series of cuts, so each stack is completely cut before moving on to the next.
Super Mail's print jobs usually require 12″ x 18″ stock, which is a common trend in the on-demand digital print marketplace, making the 20″ cutting blade of the Cut-True 29A an ideal fit.
Flexibility for Print Facilities with Multiple Operators
With its intuitive touchscreen control panel, programmable jobs and step-by-step job setup, it's much easier to use than their previous cutter. Burtrand said this provides greater flexibility within their production department, as it's easy for any member of their staff to operate the Cut-True 29A. This has improved their ability to move efficiently from one job to the next, without requiring dedicated personnel to operate the cutter.
The user interface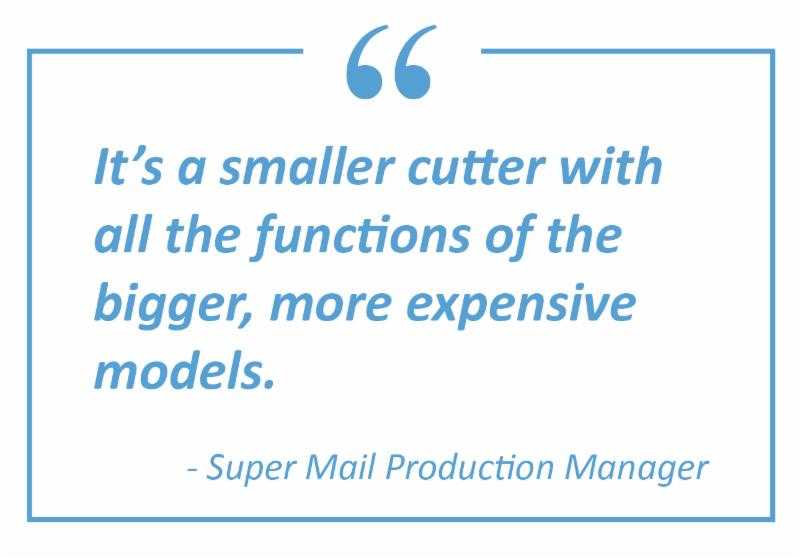 is also quicker than their old model. "With our old cutter, once you fired it up in the morning, you had to wait for the computer to boot itself up. With the 29A, once you turn it on, it's ready to run," he said.
The Super Mail team has processed approximately 7,000 cuts in the months since purchasing the 29A and in that time, the hardened steel cutting blade is still going strong. With safety as a top priority, when the blade eventually needs to be changed, they can use the blade change safety tool which comes standard with the cutter.
Compact Size Includes All the Features of a Larger Cutter  
"The thing I really like about the 29A is, it's a smaller cutter that has all of the functions of the bigger, more expensive models," Burtrand said. "The footprint is probably half the size and it's still as heavy duty as a larger cutter."  Standard features include a bright LED Cutting Line which shows exactly where the blade will cut, allowing for precise adjustments, an anti-friction surface which makes it easier to maneuver large paper stock, and an Infrared Light Beam Safety Curtain which immediately stops operation if the light plane is interrupted.
Burtrand emphasized the convenience of the Light Beam Safety Curtain, which eliminates the need for users to open and close a cover between each cut, and said with a smile, "When it comes to safety features like this, especially on a cutter, there's no such thing as one that works too well."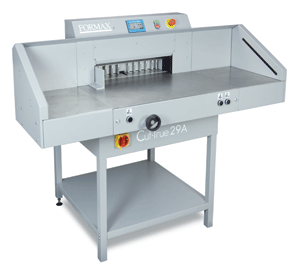 Outstanding Value and Customer Service
Ken Kasznel of AMASTI said customers who have purchased the Cut-True 29A, including Super Mail, have been pleasantly surprised at the value for the price they paid, as well as the support provided by Formax after the sale. "The support and technical knowledge, from the sales guys to the technical people, is the best in the industry," he said. "They're always very responsive, and it's really easy to get the answer to a question."
The three agreed that they'd highly recommend the Cut-True 29A to any average-size print shop. "We're 100% happy; we have absolutely no complaints whatsoever."