Case Study: Disciple Press and the Atlas C350
Disciple Press, located in Alabama, produces on-demand

printed products for funeral homes, churches, and consumers. This includes funeral programs, memorial cards, thank you cards, and more.
We spoke with Aaron Carr, CEO of Disciple Press, to see how the Formax Atlas C350 has helped solve challenges of digital printing and streamlined their print finishing process.
The Challenge: Toner Cracking
As an all-digital print operation, their biggest challenge was toner cracking on the folded edge. To minimize this, they used a separate creasing machine prior to folding, which was inefficient and time-consuming.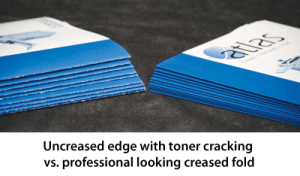 In their unique print marketplace, short turnaround time is critical to offer same day printing and shipping. They needed an efficient solution to produce their on-demand products.
The Solution: Atlas C350 Creaser/Folder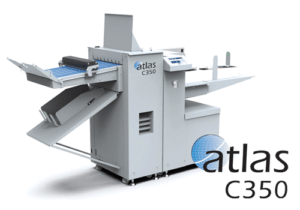 Using the Formax Atlas C350, they're now able to eliminate the added step of creasing on a separate machine. The C350 processes pieces in a single pass, creasing and folding sheets up to 400gsm. It utilizes a heavy duty, lifetime guaranteed creasing matrix which virtually eliminates cracking on the creased or folded edge.
Since purchasing the Atlas C350, they've increased output, processing about 50-60 short run, on-demand jobs per day.
Carr said the touchscreen control panel makes it easy to train multiple operators to use the machine. They simply enter the sheet length, weight, and fold type, and the Atlas C350 automatically calculates the crease locations and sets them accordingly. Users can choose from pre-programmed common creases, or they can create and save an unlimited number of custom jobs.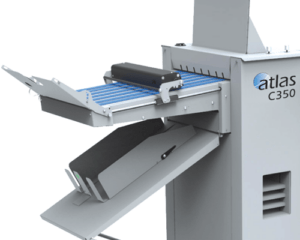 Another useful feature for short-run projects is the two-in-one outfeed configuration. This consists of a fully-automatic belt stacker for folded sheets, and a separate catch tray. With both outfeed options available at all times, users can easily switch between crease and fold jobs, right from the control panel, with no need to reconfigure the machine.
Carr said the Atlas C350 is well designed, easy to operate, efficient, and ideal for their unique printing marketplace.