Case Study: NatureCity's ColorMax8 and Greenwave Cardboard Perforator
Two Formax Products Help NatureCity with More Efficient Printing, and Handling Cardboard Waste
NatureCity is a direct-to-consumer nutritional supplement provider, founded in 2002. To reach current and potential customers, they utilize a variety of marketing materials, including

catalogs, membership cards, letter envelopes and special promotions.
With a high volume of these materials to send out, they were looking for an efficient, single-pass solution to print artwork and addresses at the same time. They were also dealing with a lot of cardboard packaging waste, generated by incoming product shipments.
Two Formax products provided a solution for these challenges: the ColorMax8 Digital Color Printer, and the Greenwave Cardboard Perforator.
ColorMax8 is the Single-Pass Solution
We spoke with Beth, the Senior VP at NatureCity, who told us how the ColorMax8 has streamlined their mailings and saved money.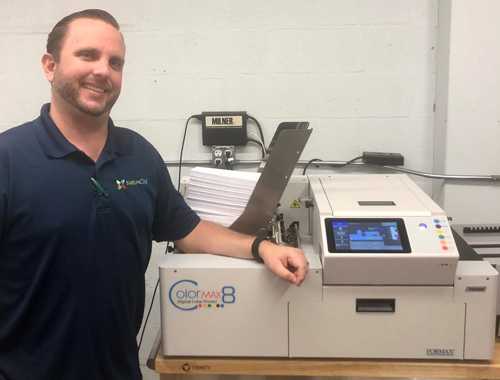 For many years, they've used a standard inkjet addressing system, but it requires the purchase of pre-printed materials with artwork, then for operators to run mailings through once for addressing, and reconfigure to send through a second time for postal application.
With the ColorMax8, they can mail-merge, add customer codes and even custom art, then send the marketing materials through in a single pass, completing up to 2,000 catalogs in just 20 minutes!
Beth also praised the ColorMax8 for its on-demand envelope printing capabilities. Instead of ordering expensive pre-printed envelopes, the ColorMax8 allows them to print the quantity they need, with the option to change art, and personalize or customize envelopes.
She said they really appreciate the intuitive touchscreen, and the ability to store and recall frequently run jobs.
Greenwave Helps Tackle the Tide of Cardboard Waste
With incoming product shipments arriving daily, she said cardboard waste accumulates fast, and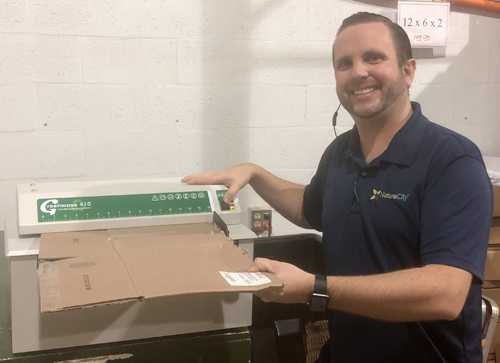 their recycling dumpster fills up quickly. The Greenwave Cardboard Perforator has helped in more ways than one.
Beth said their Pick and Pack folks love it, because they can trim boxes to size and pack shipments using the perforated cardboard paired with branded tissue paper. Sometimes they need just a little extra fill, and it helps to minimize weight and keep shipping costs lower.
They've also found that the perforated cardboard boxes that aren't used for shipping are more compact, and take up less space in the recycling dumpster.
For Both Printing and Shipping, Formax Solutions Are Just What the Doctor Ordered
With these two Formax products on the job, NatureCity is poised to provide quality products to their customers for years to come.