Mint Mailing Success Story: New Mexico
New prospect with old Pitney equipment and a deli meat slicer for opening envelopes turns into a multi-machine account in no time!
The Story
Salesperson makes a site visit to an Electric Co-Op office to consult with the new prospect on printing equipment. The rep does not have a current relationship with the customer, and the customer has been a long-time client with competitive Ricoh equipment.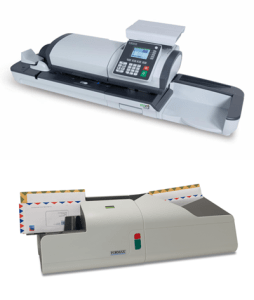 The Success
During the on-site visit, the attentive salesperson stayed alert to other technology solutions in the office. By doing so, the rep noticed an older Pitney Bowes mailing machine and a prehistoric-looking letter opening product that he thought at first was an antique deli meat-slicer!
Within the one visit the rep took away a variety of machine opportunities and closed them all…Mint postage equipment, Formax letter opener, and also dropped in Sharp and Epson equipment to round out the big sale!
The Takeaway
It pays to pay attention! A simple walk-through of a prospect's office looking for other technology products and a few leading questions can go a long way for those extra machine sales. Which always equals more money in your pocket!!
Be sure to notice any type of equipment in the office you're visiting and ask questions like:
• What does that machine do?
• What do you do with the sheets/envelopes I'm seeing on the desk?
• Where is your postage meter in this office?
Great work by the rep on this deal to snag a net-new customer, multiple machines in one account, and planting his company's flag in their office for any future technology equipment needs!