Formax Introduces the 6308 Series Office Inserters
Dover, NH: Formax introduces the new 6308 Series Inserters, replacing the discontinued 6306 Series. Four models are available, both with and without intelligence, in a variety of configurations to meet the needs of any size office or small mailroom.
High-capacity input and output are combined with fully-automatic adjustments, user-friendly enhancements and cutting edge technology.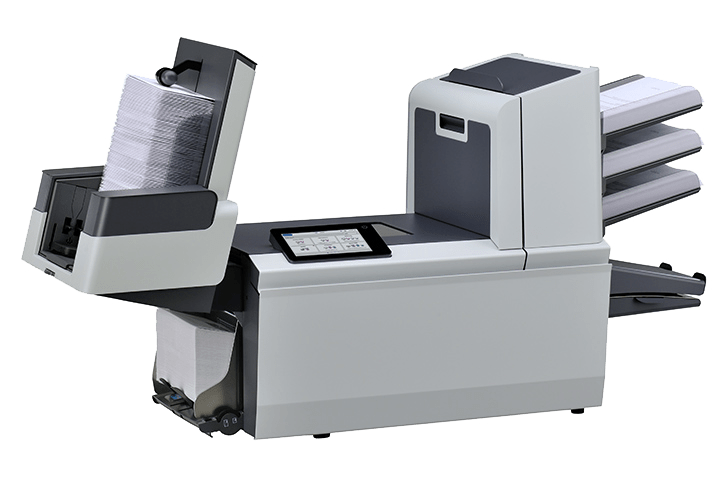 Building upon the strengths of previous models, the 6308 Series' new features include an improved graphical interface on the 7" touchscreen control panel; a lockable thumbwheel adjustment and easier setup in the envelope hopper; and a paper path window which allows users to see the insert area without stopping or opening the inserter.
Standard features include automatic paper and envelope presence sensors, up to 50 programmable jobs, a vertical output stacker for up to 500 filled envelopes, and a top-loading envelope hopper for up to 325 envelopes.
The 6308 Series has the power to fold and insert up to 10 pages in half-fold mode. It's versatile enough to process documents of various lengths and thickness at the same time, up to 3,800 per hour and up to 40,000 pieces per month.
Models with intelligence include an internal CIS (Contact Image Scanner) which can read OMR, OCR, 1D and 2D barcodes. This full-width scanner reads the entire page without being physically adjusted, allowing codes to be printed in any location on the document.
The exclusive AutoSetTM feature makes processing forms a snap by sensing and automatically setting the paper length, paper thickness, fold type, envelope size and double document detection.
Available configurations include a high capacity document feeder, standard and special feeders. Options include a high capacity production feeder, Advanced OMR and BCR, MailDocTM Software, short feed trays and a side exit.
With high-capacity features and a variety of configurations, the 6308 Series is a welcome addition to any size office or small mailroom.
Formax is an industry leader in the design, engineering, sales and support of pressure seal, mailing, digital print & finishing and data destruction solutions. The company's goal is to continually introduce new and innovative products while providing an unequaled level of service and support for authorized dealers worldwide. Formax's corporate sales and service office is located in Dover, NH, and manufacturing facilities in Turlock, CA.