Formax Introduces Atlas C350 High-Speed Creaser/Folder
Dover, NH: Formax is pleased to announce the launch of the Atlas C350 High-Speed Creaser/Folder, which replaces the discontinued Atlas C300, with a combination of familiar features and expanded capabilities. Like its predecessor, the Atlas C350 utilizes the same dynamic creasing and folding technology to professionally finish digitally printed sheets. And like the Atlas C150, it utilizes a top-fed vacuum infeed table which can handle media stacks up to 7.9″ high.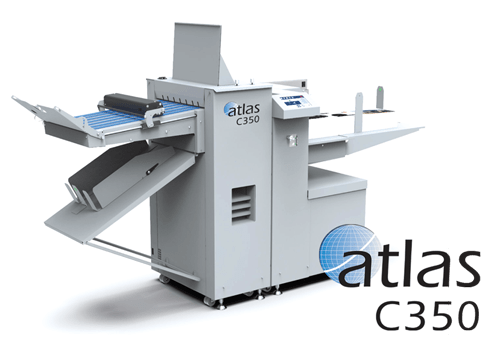 New features include bold, intuitive graphics on its color touchscreen, an extended infeed table for sheets up to 51″ long, the ability to add a second creasing or perforating blade to the system, and the capacity to create full-width cross perforation. A new two-in-one output configuration includes a fully-automatic belt stacker for folded sheets, and a catch tray capable of handling creased sheets up to 35″ long. Fully automatic setup allows users to input the sheet length, weight and fold type using the color touchscreen, then the Atlas C350 automatically calculates and sets the crease positions.
Features include:
Fully automatic setup
Unlimited memory for custom jobs
Quick-change blade matrix which requires no tools
Rotary in-line perforation
Heavy duty lifetime guaranteed creasing matrix
Various creasing and perforation options
Color touchscreen control panel with bold icons and intuitive steps
Two-in-one outfeed: belt stacker and catch tray
Standard infeed table extension handles media up to 51″ long
Vacuum top-loading infeed allows for media stacks up to 7.9″ high