Case Study: Minuteman Press Gresham adds the Cut-True 31H to its lineup
Minuteman Press Gresham loves the robust, user-friendly features of the Cut-True 31H

For Minuteman Press Gresham, a family-owned print shop just outside Portland, Oregon, the Formax Cut-True 31H was a welcome addition.We recently spoke to owner Charles Crowder about the shop and how the Cut-True fits into their equipment lineup.
 
Charles told us they have a small 20″ cutter which is rarely used, and a larger cutter which works well but can't handle large volume cutting jobs.
 
In addition, they had an old-school hydraulic cutter, purchased in the early 2000s, which was recently affected by a parts recall. So, the search began for a replacement.
 
Cut-True 31H excels in features and affordability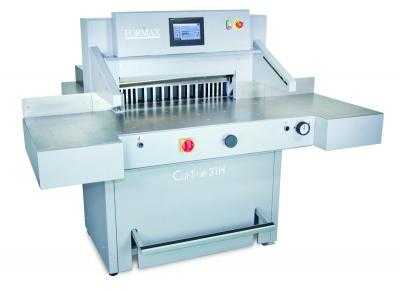 "What ultimately led me to go with the Cut-True 31H, was price point and the features. It's programmable with an easy-to-use screen, and the fact that it has an air bed in that price range, that was huge," he said.
 
"The same type of features and the same size cutter also being hydraulic from any other company was at least 25% more," he said. "Even if I had gone with a more expensive machine from another brand, their screens and their programming did not appear to be quite as robust or easy to use.
 
What was even more surprising was the fact that the air bed is so quiet. We were really expecting the air bed to be loud."
 
Volume and large-sheet compatibility seal the deal
Charles told us they produce a lot of post cards, and large quantities of business cards, and that the other cutters in their shop just couldn't match the volume that the Cut-True 31H can produce.

 
He also pointed to the Cut-True 31H's ability to cut parent sheets down to size. A lot of these come in 28" x 40" dimensions and the Cut-True 31H blade length easily handles these sheets.
 
"Being able to cut our own sheets to size is huge for us, we do a lot of that," he said.
 
Upgrading from a cutter without an air bed or programmability has been a game changer for their shop. "We're all very pleased with machine, so we're happy to be able to share how much we love it."