Case Study: 7K Metals Chooses the Atlas-TRIO15 to Help its Marketing Efforts Shine
7K Metals is a precious metals dealer based in Idaho, with 20,000 team members in the U.S.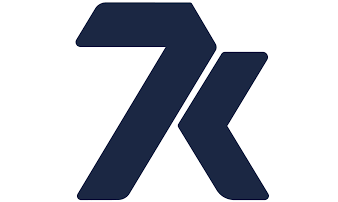 and around the world. With a large number of staff, and orders to ship, they do a lot of in-house printing, including business cards and coin cards to include with orders.
 
We spoke with team member Chris Weary about how choosing the Formax Atlas-TRIO15 has enhanced their marketing efforts as the company grows.
 
Atlas-TRIO15 Makes the Cut for this Business
Prior to upgrading to the Atlas-TRIO15 Slitter/Cutter/Creaser, they were using a tabletop business card cutter.
 
This small unit wasn't able to keep up with the large volume of cards being produced, or their heavy 130# card stock, and because of that it was prone to jamming.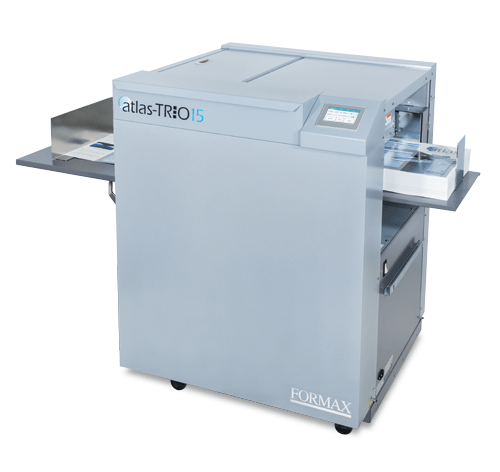 They also had to trim large printed stock to fit into the smaller machine, which was a time-consuming additional step.
 
When they decided to upgrade, Chris said they considered a variety of options, and chose the Atlas-TRIO15, based on the affordable price and user-friendly features.
 
Now they can also use larger 12" x 18" stock, taking it directly from their laser printer to the TRIO for slitting and cutting to size.
 
In addition to business cards, coin cards, postcards and name tags, they produce marketing materials for company-wide events. For these, they utilize three of the TRIO's features – slitting, cutting and creasing – to create tabletop signs and 8.5" x 11" tri-fold brochures.
Programmable for Easy, Walk-Up Use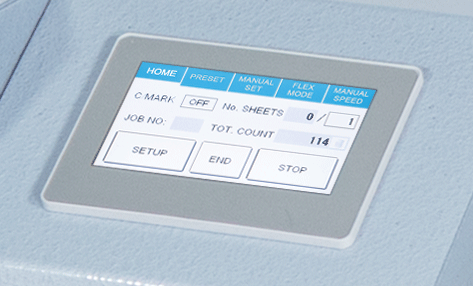 Chris said one of the best features of the Atlas-TRIO15 is the ability to save custom jobs with the touchscreen control panel. "We have about 15 jobs programmed, which has been very convenient, not having to type in every setting every time. You just press a button and you're cutting."
 
He also said the skew adjustment knob makes it easy to adapt when the printed sheets are out of alignment.
 
Durable and Ready for More
 
The Atlas-TRIO15 has proven its durability, as they produce 60 – 100,000 business cards, and up to 25,000 coin cards each month. Chris said the TRIO is running 5 to 6 hours a day, 5 days a week.
 
At 7K metals, they're very happy with the decision to choose the Atlas-TRIO15, and using it as part of their in-house print finishing, the company is ready to expand well into the future.