Atlas Air-Feed Folder Helps University Transition to More Digital Printing
Compact, Powerful Atlas Folder is a Welcome Addition to University Printing Services
Oakland University is a public university in Rochester, Michigan, with an enrollment of approximately 23,000 students, which has its own in-plant printing operation.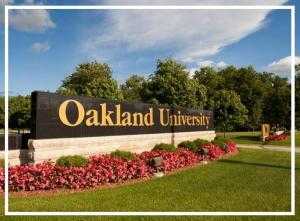 The University recently added a Formax Atlas Folder to the equipment in its Printing & Mailing Services Center. We spoke with Jim Whedon, Manager of the Center, about how the Atlas Folder has helped with the transition to an increase in digital printing.
When he arrived two years ago, the Center was producing approximately 60% digital and 40% offset printing, and utilizing a 30-year-old large-format folder as well as a small, antiquated  tabletop folder. The needs of the campus changed dramatically within the past 18 months, and now the ratio is 90% digital, 10% offset. With this change came the need for a new digital press and a folder better suited to digital prints.
"We began to research folders that we could dedicate primarily to folding lightweight stocks, especially off the digital press," Whedon said. "As we all know, the digital devices lay down a tremendous amount of toner, which has a tendency to crack when you're trying to fold it. Our large-format folder was old technology that wouldn't fold digital prints well. Everything was cracking… plus, it was way too big a machine, with the addition of the new digital press."
Working with their local Formax dealer, Tomahawk Graphics, the Center took the Atlas Air-Feed Folder for a test drive. Once it was out of the box, Whedon said he was pretty convinced they had the right machine, in part because it had a similar set-up and operation as two other machines in the production center.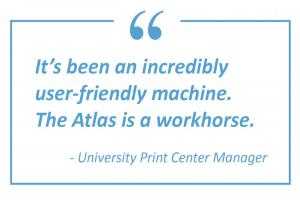 User-Friendly Operation and High Speed
Whedon said he and his staff are very happy with the Atlas Folder's performance. "It's a workhorse," he said. "I watched one of my operators set up a 15,000-piece tri-fold job, and stepped away to my office for a short time. When I returned — I figured he'd be halfway through (as with the old machine) — I said I wanted to watch the job run. He said, 'you should have been here half an hour ago. It's done.'"
Capacity: Input and Output
One of the primary features of the Atlas Folder is its continuous feeding ability, along with continuous output. Whedon said their old tabletop folder was friction feed and didn't have the sheet capacity to match the Atlas with its continuous feeding. The air-feed table of the Atlas can hold a paper stack up to 2.25″, and with bottom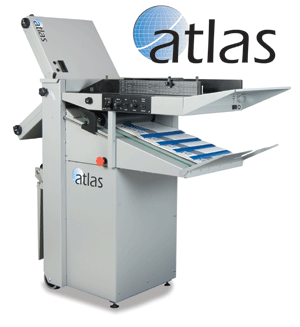 feeding, it can be reloaded on-the-fly with no interruptions. Plus, its compact design places the outfeed conveyor on the same side as the infeed, making it easy for operators to load and unload from a single position.
Durability
The Atlas Air-Feed Folder is rugged and easy to use, folding up to 27,000 pieces per hour. "Our focus when we bought it was for less than cover stock, as we have a folder for that," Whedon said. The Atlas "has handled everything we've thrown at it, and some of the heavier weights without a problem. I wouldn't hesitate to run the Atlas 5-7 hours a day. I'm very satisfied with the purchase we've made."
With help from the Atlas Air-Feed Folder, the Printing and Mailing Services Center continues to provide the campus community with professionally printed and folded pieces, from postcards to announcements, invitations and more.