For Pinney Printing, digital toner cracking is a thing of the past, thanks to the Atlas C102
Atlas C102 Case Study: Pinney Printing Company
Being in business for more than a century, the folks at Pinney Printing Company, of Sterling, Illinois know a few things about printing and print finishing. They provide a wide range of products, including tri-fold brochures, booklets, business cards, flyers, and more. And since digital printing has taken off, they also know about the frustrations of toner cracking.


 
Production Manager David Zimmerman, who's been with Pinney for 36 years, told us how the Atlas C102 Creaser/Perforator is making a big difference in their digital print products.
 
Struggling with outdated technology and lackluster results
Until recently, when they needed to create folded pieces with creases, their only option was to process them on a buckle folder with a scoring attachment. This required a skilled operator and a lot of time for set-up and converting between folding and scoring.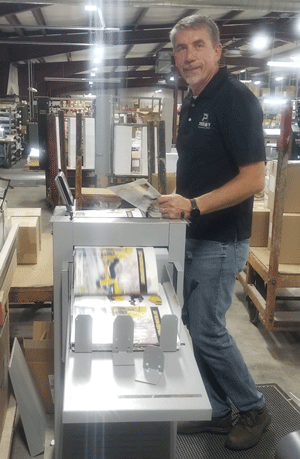 Even then, their digital jobs didn't have the quality folded edge they needed, because scoring actually cuts through the paper fibers. "No matter what we did, 100% of the time we would get cracking," Zimmerman said.
 
A search for better creasing options turned up some comparable products, but the Atlas C102 stood out from the rest with its heavy-duty construction, user-friendly features and creasing technology designed specifically for digital prints.
 
User-friendly and accurate, with stunning results
The Atlas C102 High-Speed Automatic Creaser features a unique creasing matrix which compresses the paper fibers instead of cutting them, producing a clean, crack-free folded edge. It offers variable creasing depth for different paper weights, and can be easily adjusted with a simple sliding lever and no tools. Using the C102, Zimmerman said, "I have no cracking at all now, even with the thinnest stocks. Every time I do a job, I can't believe it."
 
With the Atlas C102, setup is quick and easy. Using the color touchscreen, operators simply enter the length of the sheet, choose the type of crease and press start. Zimmerman said in the time it would take a technician to set up the buckle folder to crease a job, he can set-up and process the job on the C102.
 
Ideal for short runs and custom proofs
The Atlas C102 has increased their productivity, and allowed them to take on new projects. "If you can't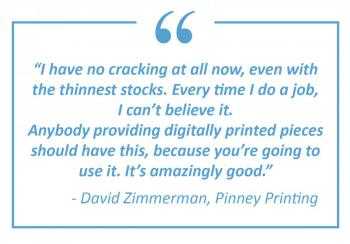 produce on-demand, short-run jobs for a customer, somebody else will," Zimmerman said. He told us how the C102 helps fit short run projects into their production schedule, especially with on-demand jobs.
 
In the past, if they had long-run jobs on the folders, and a short-run job came in, they'd have to stop, convert to creasing, crease the smaller job, and switch back.
 
With the C102, they don't have to interrupt a larger job to crease a smaller one. For some short run jobs under 200 pieces, they skip the folder altogether. "I'll just hand fold it quickly because the crease is so accurate and easy to fold," he said.
 
It's also a great selling tool to finish digital customer proofs, because it's quick and provides a high-quality finished piece. "The customer can see exactly what they're getting, and they're impressed when it looks good," he said.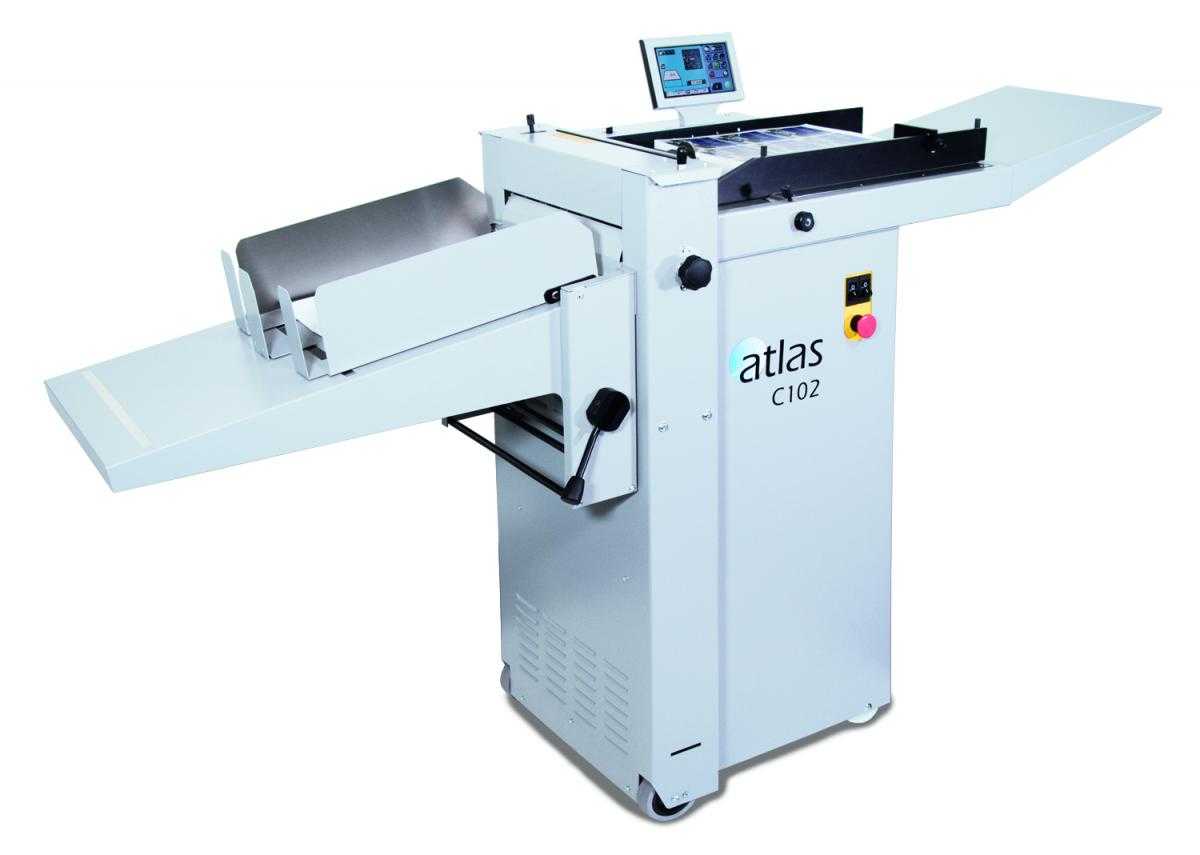 More opportunities and quicker ROI
When they purchased the Atlas C102, they wondered if it was worth the investment. Now, it gets used nearly every day, opening up new opportunities and providing a quicker ROI than they anticipated.
 
Zimmerman said he'd recommend the Atlas C102, for accuracy, ease of setup, and crease quality. "Anybody providing digitally printed pieces should have this, because you're going to use it," he said, "it's amazingly good."