Formax Dealer helps a Panama City, FL Print Shop evolve with innovative technology
Curry Print is a print house in Panama City, Florida, that offers custom offset, digital color, and black & white printing. Their versatility enables them to match a project's budget, deadline, and production requirements. They offer a variety of printing and finishing options from bookmarks and business cards to larger projects such as booklets, forms, and brochures as well as blueprint services and large format printing.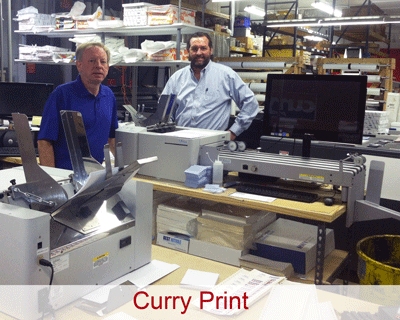 Bobby Peterson of Graphics Business Systems has been a Formax Dealer for more than 10 years and has been working with Mike Hays, owner of Curry Print, for the past 5 years.
Bobby saw an opportunity to help Curry Print evolve with the ever changing print industry. They needed a cost-effective way to print short run envelopes and flyers for
their customers. Since purchasing the ColorMax7 they're now able to offer their customers this solution. "We shifted 90% of our printing to digital print and 45% is printing envelopes on the ColorMax7," Mike explained.  Previously, Curry Print was using a 2-color press, which proved to be costly for their customers who had to order at least 500 envelopes to bring down the per-piece cost. Now with the ColorMax7, they can produce smaller quantities on demand for less, which keeps their customers happy and helps with repeat business. "The quick turnaround is great for our business," Mike said. "What a normal printer charges for black and white prints, we can match with full color." In addition to speed and savings, Curry Print has been very pleased with the ColorMax7 print quality. Their customers report that the finished envelopes are the nicest they've ever had. Curry Print has had such great success that they've purchased a second ColorMax7. "We're streamlining as much as we can running 2 machines at a time – one for big run jobs and one for short run."
Mike's confidence with his ColorMax7 led him to inquire about two additional Formax machines to more efficiently process their customers' mailing fulfillment jobs. He purchased the FD 290 Crash and Edge 90-degree Tabbing System and an FD 6204 Advanced 2 Inserter to replace their slow and outdated systems. Mike told us his old tabbing system was so slow that it would take hours to complete a mailing project and it did not comply with USPS tabbing regulations.
With the new FD 290, he can complete jobs more efficiently and comply with current and future USPS regulations. He also said his inserting system was so old it was more efficient to fold and insert documents by hand. With the FD 6204 Advanced 2 he can easily complete mailing jobs in half the time at speeds up to 2,200 pieces per hour.
 With the power, quality and reliability of Formax equipment, Graphics Business Systems has helped Curry Print take their business to the next level.