Case Study: Polymershapes Proves Cut-True 29H is Great for More Than Just Paper
Polymershapes is a plastics distribution company with various locations worldwide, and has produced and marketed its share of specialty products

during its 70+ years in business.
We recently spoke with Matthew Brannen, General Manager of Polymershapes' location in Maryland, who told us how the Cut-True 29H helped their production process during the pandemic.
Tackling the Touchpoints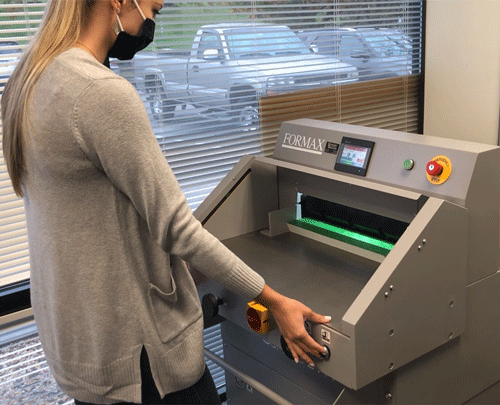 In addition to producing face shields and plastic barriers for social distancing requirements, Polymershapes distributes a product called nanoDefense. This coated antibacterial film can be applied to a variety of touchpoints, from PIN pads to shopping cart handles and beyond.
With the incredible demand for such products in the past year, they needed a cutter that could precisely trim the product to customer specifications.
Brannen said the Formax Cut-True 29H was the ideal solution for this task. "It worked perfectly for the application, had a small footprint, and I was amazed by the accuracy," he said.
Because they could stock standard 12″x18″ sheets and cut them to size in stacks of up to 100 sheets, they were able to maximize yield and reduce waste, while also limiting the number of SKUs, and increasing overall profitability.
Clean, Sharp and Compact
Brannen said some production facilities have larger format Guillotine cutters for high volume, large format stock, in wide open oily, dusty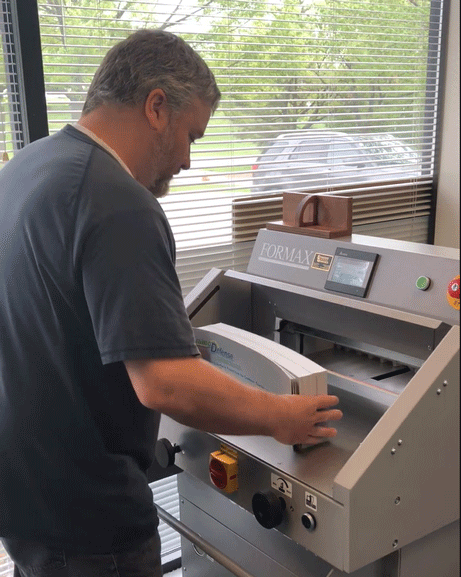 environments. He was looking for something closer to a clean room type cutter, and discovered that the Cut-True 29H was cleaner and had a small enough footprint that they could easily run it in one of their conference rooms.
The hardened steel cutting blade has also proven to be incredibly durable. Even cutting the Nanodefense sheets, which have an adhesive backing, the original blade is still sharp and accurate after more than 8 months of use. He said they simply clean it with isopropyl alcohol, as well as rotating and replacing the cutting sticks on a regular basis.
For nanoDefense and Beyond, the Cut-True 29H is Up to the Task
Brannen suggested that customers considering the Cut-True 29H could think beyond cutting just paper, and consider other thin-gauge products including a variety of plastic films. "Spread the word," he said, "I think it's excellent."
Click here to see the Cut-True 29H in action at Polymershapes