Case Study: In-Plant for Non-Profit Organization
We recently spoke with the team at an in-plant print shop for a national non-profit organization. Formax helped them to literally downsize their equipment for increased efficiency.
Some of the print shop's equipment was larger than they needed, including an offset press, and a non-Formax 8-station inserting system. They turned to their local Formax Dealer to help streamline their processes.
6308 Series Inserter offers smaller footprint
The first change was the 6308 Series Inserter, which has a smaller footprint and better fits their current mail volume. The print shop manager said it's just right for their mailings which range from 3-4 page pension fund notices, to conference registration letters and member outreach.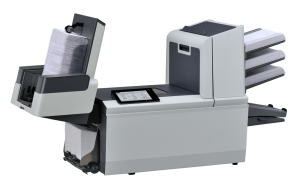 She said they appreciate the 6308's plug-and-play design which is easy for operators to use, including staff from other departments, with very little instruction.
ColorMax8 Digital Printer replaces large, complicated offset press
After the successful placement of the 6308 Inserter, they asked their Formax Dealer for a better envelope printing solution. Their previous process used a large Heidelberg press, which required plates to be created, along with messy ink setup, a very time-consuming process.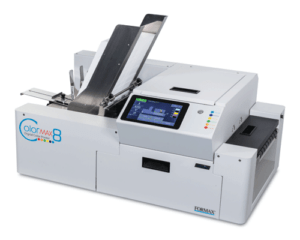 The solution was the ColorMax8 Digital Inkjet Printer, with its smaller footprint and easy touchscreen setup.
The new system allows them to print envelopes for satellite offices and their in-house accounting department, between 7,500 and 10,000 envelopes.
One more for good measure
Based on their great experiences with these two machines, the non profit's accounting department decided to purchase a Formax pressure sealer. They use their FD 2006 with Output Conveyor to process a few thousand pressure seal pieces a month.
The in-plant manager said she'd definitely recommend Formax equipment because it's right in the sweet spot of what they need based on volume, size, affordability, and user-friendly features.