New FD 8732HS High Security Multimedia Shredder is NSA/CSS EPL Listed
DOVER, NH, JULY '21: Formax is pleased to introduce the new FD 8732HS High Security Multimedia Shredder, which offers high-security paper shredding and optical media destruction in a single convenient, mobile unit. The FD 8732HS is listed on the July 2021 NSA/CSS EPL, and meets the 2018 requirements for particle size of 2mm x2mm for DVD and Blu-ray destruction. It meets the requirements of NSA/CSS Specification 02-01 for High Security Cross-Cut Paper Shredders and Specification 04-02 for Optical Media Destruction Devices.
The paper cutting head shreds paper down to 1mm x 5mm particles. It features AutoStart/Stop, Auto Reverse to clear the in-feed, a heavy duty molded plastic waste bin, and the EvenFlow™ Automatic Internal Oiling System that lubricates the paper cutting blades automatically for peak performance.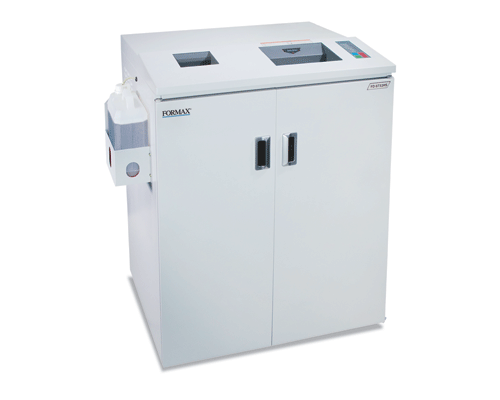 The dual-head optical media system reduces media into particle sizes of 2mm x 2mm or less, including all types of CDs, DVDs, and Blu-ray discs. The optical media particles are contained in a separate waste bin for easy disposal.
Standard features include an easy-to-use LED control panel, geared chain-driven cutting heads, heavy-duty all-metal cabinet with casters, separate feed openings, and lifetime guaranteed waste bins. It also includes the EvenFlow™ Automatic Internal Oiling System that lubricates the cutting heads automatically during use.
The FD 8732HS is a rugged, user-friendly high-security solution to destroy both paper and optical media, ensuring top secret data remains top secret, and out of the wrong hands.
Formax is an industry leader in the design, engineering, sales and support of pressure seal, mailing, digital print & finishing and data destruction solutions. The company's goal is to continually introduce new and innovative products while providing an unequaled level of service and support for authorized dealers worldwide. Formax's corporate sales and service office is located in Dover, NH, and manufacturing facilities in Turlock, CA.