Formax Introduces the New Atlas C150 Creaser/Perforator
DOVER, NH, APRIL '21: Formax is pleased to introduce the Atlas C150 Automatic Air-Feed Creaser/Perforator, featuring a vacuum top-feeding system, automatic job setup, and extended infeed table for larger media sizes. Its unique creasing matrix eliminates cracking in digital prints, making it ideal for on-demand jobs requiring a professional finished look.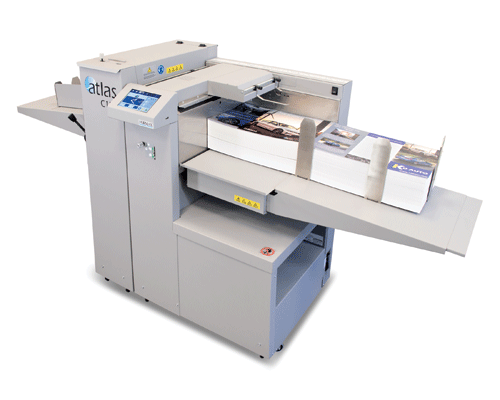 The Atlas C150 utilizes a top feeding vacuum system, with a pile feeding capacity of up to 7.8". An optical sensor array controls sheet separation by constantly monitoring the float zone and automatically adjusting on-the-fly. The infeed table is extendable to accommodate media up to 15" W x 51" L, in weights from 80-400 gsm. The outfeed stacker can be adjusted to match the paper stack height and keeps processed sheets neatly organized for quick and easy removal.
Setup is quick and easy using the color touchscreen control panel. Simply enter the sheet length, paper weight, and fold type, and the C150 automatically calculates crease locations and sets them accordingly. Common creases are pre-programmed, and users can create and save an unlimited number of custom jobs. In-line rotary perforation is also standard, to crease and perforate in a single pass.
The quick-release blade system allows for easy changing from creasing to cross perforating, without using any tools. It features variable creasing depth, which can be adjusted using a simple sliding lever, to accommodate various paper weights. An optional second creasing blade can be installed which allows for single-pass up/down creasing for hinges, book covers, and complex brochures.
The Atlas C150 features variable speed control, and with the ability to create up to 30 creases per page, it can process up to 8,500 sheets per hour (8.5" x 11").
To avoid the cracking which often happens with traditional circular scoring blades, the Atlas C150 utilizes a unique rule-and-matrix mechanism. This method compresses paper fibers instead of cutting them, virtually eliminating cracks on a creased or folded edge. The creasing matrix is guaranteed for life.
The optional cross/partial perforation kit allows for full and partial perforating along the width of the sheet, ideal for tear-off tickets and vouchers. Additional options include the AC-10 Folding Unit for creasing and folding in a single pass, a second creasing matrix, cross perforation kit, and narrow/ultra narrow creasing matrices.
With rugged metal construction, a compact footprint, and a range of user-friendly features, the Atlas C150 is an ideal addition to small print shops and production facilities with limited space that want to expand their digital print finishing capabilities.
Formax is an industry leader in the design, engineering, sales and support of pressure seal, mailing, digital print & finishing and data destruction solutions. The company's goal is to continually introduce new and innovative products while providing an unequaled level of service and support for authorized dealers worldwide. Formax's corporate sales and service office is located in Dover, NH, and manufacturing facilities in Turlock, CA.