High Volume Tabletop
The FD 2036 AutoSeal® is a user-friendly high-volume solution for processing one-piece pressure sensitive mailers. The color touchscreen control panel uses internationally-recognized symbols in place of text, and includes a six-digit resettable counter. With a speed of up to 11,000 forms per hour, hopper capacity of up to 350 forms, and the ability to process forms up to 14" in length, the FD 2036 enables operators to complete daily processing jobs with ease. Pressure seal mailers can be used for...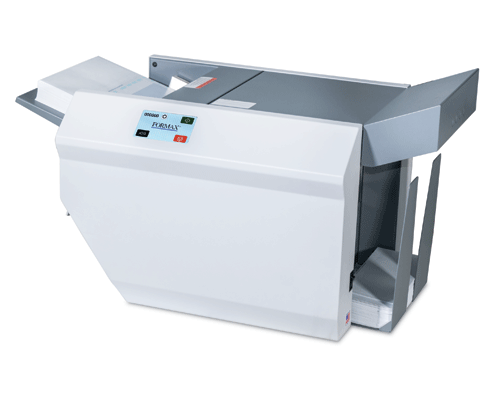 The AutoSeal® FD 2056 is a fully automatic pressure sealer which provides the ultimate tabletop solution for processing pressure sensitive one-piece mailers. Designed with ease of operation and efficiency in mind, the FD 2056 features a full-color touchscreen control panel, and automatically detects and adjusts for 11", 14" and 17" forms. It offers 5 pre-programmed standard folds for even panel C, V, Z and uneven/eccentric C and Z folds. It also has the ability to store up to 35 custom...