Cut-Sheet Cutters / Bursters
The FD 4170 Cut-Sheet Burster is the ideal finishing solution when multiple forms are printed on one page. Direct from a laser printer to the FD 4170, pre-perforated forms are automatically burst at perforation and stacked sequentially at speeds of up to 140 sheets per minute. No more cut sheet bursting by hand! Features include 5-level speed control, LCD counter, pro-programmed settings for 11", 14" and 17" paper, adjustable side guides, and last job memory.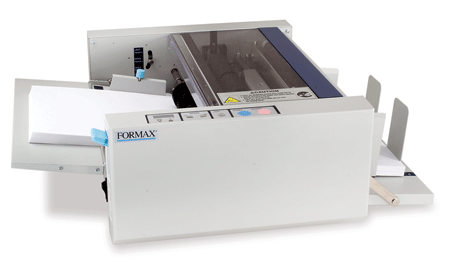 The FD 574 Cut-Sheet Cutter is uniquely designed to process forms generated from a digital printer, up to 44 forms per minute. It automatically feeds the forms and cuts, slits*, or perforates* in the desired position, using transport rollers for accuracy and controls for fine-tuning. With a speed of up to 2,640 sheets per hour, and cutting accuracy of +/- 0.5, it delivers precise and razor sharp edges on every finished piece, from checks and coupons, to tickets, membership cards...